Updated on 25-Jan-2022, SDK 33, Android 13 working
This is a smart office file reader application that helps you open the office, read PDFs, and read all documents. The all-document viewer app helps you to open all files or view any document on your mobile
No need to open the computer, only with your mobile, you can manage all files and read all documents in PDF, PPT, XLS, TXT, or WORD file format.

Why should you buy our all-document opener app
Easy to use.
No internet is required, and documents are viewed offline.
Search and sort the file list, and manage documents.
Move your favorite documents to "Bookmark" so you can read them again later.
All-in-one document reader: CSV, RTF, PDF, DOC, DOCX, XLS, PPT, and TXT files from internal storage, email, cloud, web, and external storage.
Main features of file manager & file viewer app: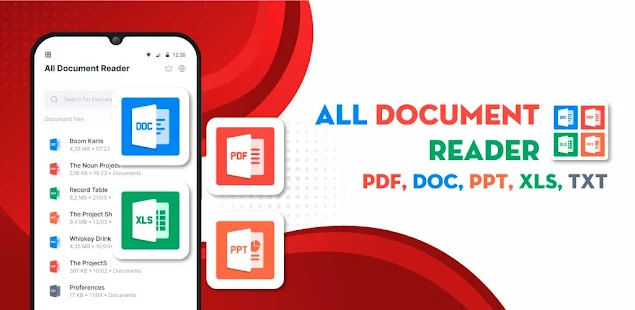 Document manager, file opener
All files reader and any documents viewer
.
All files including PDF files, Word, Excel, PowerPoint, and text… are managed and organized in the folder structure view.
Multiple document files are also available in a single place, making it easy to search and view.
Supports many formats, and any file viewer.
PDF reader
PDF viewer, PDF opener from the file manager, or directly from other apps.
Search, scroll and zoom in and out PDF files.
Easily print and share PDF files through another app.
Read PDF files as a book, or ebook reader.
Word reader
Docx viewer, all doc viewers with a simple and elegant reader screen that has the essential controls.
Quickly find any desired Docx file with the simple search option.
Spreadsheet reader, Xls viewer, CSV viewer
Xls reader to view all excel file formats.
View files xls, xlsx, CSV, and txt with high quality.
PPT files reader
Support PPT files, pptx reader with high resolution and fast performance.
Search, and delete document files easily.
RTF files reader
Support RTF files with high resolution and fast performance.
Search, and delete RTF files easily.
Share with 1 touch
Share your document with others with a single tap.
Supported formats, any type of file opener
PDF reader, PDF opener
Word document: doc, Docx, docs
Excel reader document: Xls viewer, xlsx reader
Slide document: ppt, PPS, ppsx, pptx viewer
Other Word office readers and files: txt, odt, zip
This file reader for all format app is definitely an efficient office and productivity tool for reading document files. Use our all-document manager app to read all files with all the functionality. Share all document reader apps today and start collaborating your work with this office reader app.
Moreover, you can open documents that are stored on the internal memory of SD cards (External Storage) or even downloaded files or those sent as email attachments. It is very simple, making it easy to use.
We are working our best on making the office opener application better and more useful for you. This document reader and viewer application are still in development so your feedback is welcome.
Multiple Language Support
Supports Android 13
Developed Using
Kotlin
Java