All In One Status Saver Pro Features
✔️ Target SDK 32
✔️ Android 12 & 13 Supported
✔️ Light & Dark Mode Available
✔️ All new pro version UI
✔️ Multiple UI Themes
✔️ Inbuilt video player
✔️ Attractive & Responsive UI
✔️ Support in all devices.
✔️ Android Studio Pure Java Code (Recommended Version – 4.1.1)
✔️ Instagram all media saver(Images & Videos)
✔️ Whatsapp status saver
✔️ Whatsapp Business Status Saver
✔️ Video downloader for Facebook
✔️ Video downloader for TikTok without watermark
✔️ Video downloader for Twitter
✔️ Video downloader for Vimeo
✔️ Video downloader for Likee without watermark
✔️ Video downloader for ShareChat without watermark
✔️ Video downloader for SnackVideo without watermark
✔️ Video downloader for Moj without watermark
✔️ Video downloader for MX TakaTak without watermark
✔️ Video downloader for Roposo without watermark
✔️ Video downloader for Chingari without watermark
✔️ Video downloader for Zili without watermark
✔️ Video downloader for Mitron without watermark
✔️ My Gallery for viewing, delete & share all downloaded media
✔️ Onesignal Push Notification for all users
✔️ Admob Ads with full-width Banner ads, Large Banners and Interstitial
✔️ MAX (Applovin) ads with Facebook bidding Ads (Banner, Large Banner and Interstitial)
✔️ Rate App, Share App, More App & Privacy Policy included
What do You get With the Project?
✔️Full Android App Source Code with Admob Ads & Facebook Ads
✔️Full Setup Document (included app & Onesignal setup)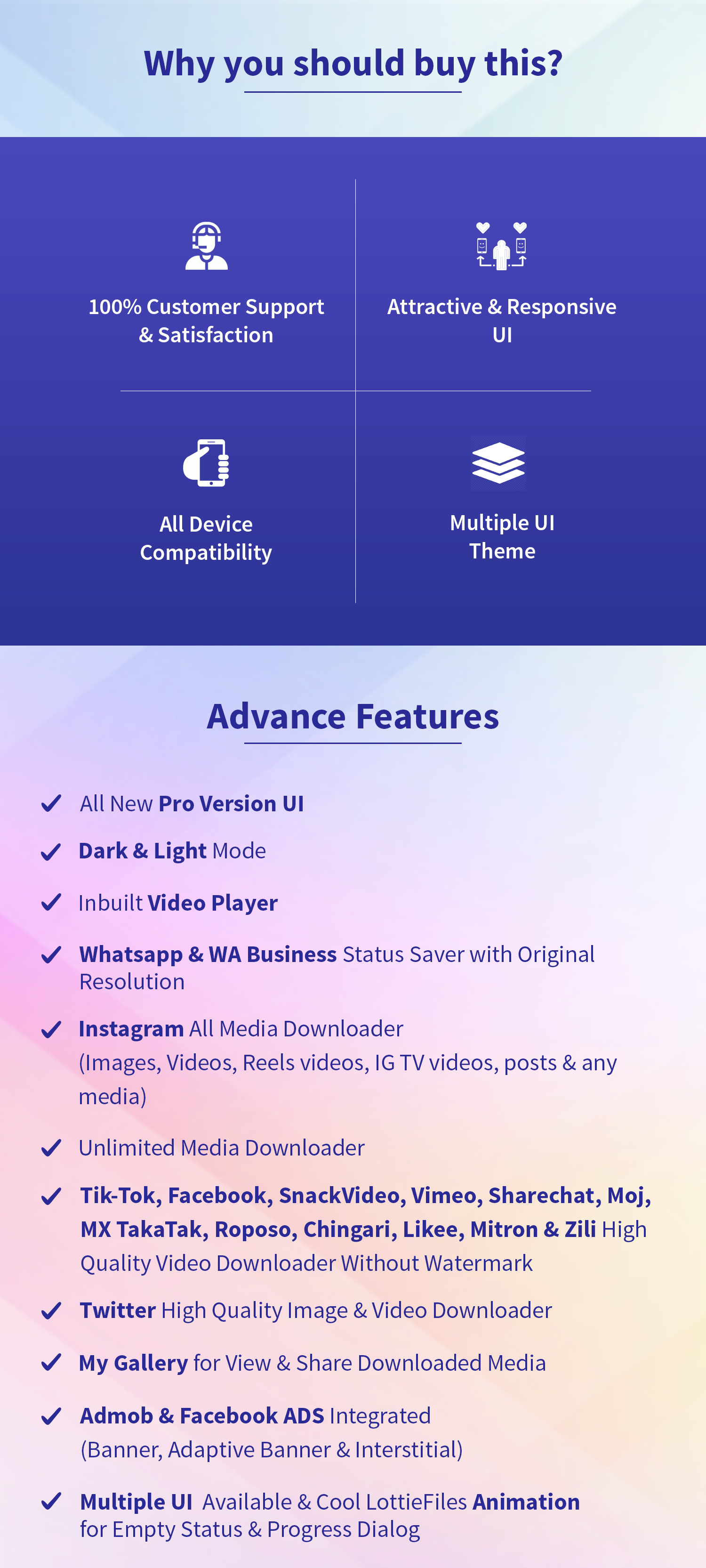 How To Use App For Whatsapp & Whatsapp Business
Step 1: Open this app & Click on the Whatsapp button to open Whatsapp or WA Business
Step 2: Watch Status from WhatsApp or WA Business
Step 3: Come Back to this app & Click on WhatsApp or WA Business button. It displays all images or video statuses in the recent status tab. Then click on the status. It displays and clicks on Download Button for save status.
Step 4: The Image and Video status is instantly saved to your gallery and click on the save status button to view all downloaded statuses.
How To Use App For Instagram
Step 1: Open the Instagram app
Step 2: Click three dots icon of the post's top right corner and click Copy Share URL or Copy Link option
Step 3: Open this app and paste the link in the textbox.
Step 4: Click on the Download button.
How To Use App For Facebook
Step 1: Open This App & log in with your fb account in the "my account" tab, In my account tab display fb videos thumb, if you have to play or download a video you have to click on the video
Step 2: Click on any fb video
Step 3: click on the download
How To Use App For Tiktok, SnackVideo, Likee & ShareChat
Step 1: Open Tiktok, SnackVideo, Likee or ShareChat from this app
Step 2: Click on the share icon and click on Copy Link option
Step 3: Open this app and paste the link
Step 4: Click on the Download button
How To Use an App For Twitter
Step 1: Open Tiktok from this app.
Step 2: Click on the share button icon on the Twitter video & Click on the 'Copy link to Tweet' option.
Step 3: Open this app and paste a link
Step 4: Click on the Download button
How To Use App For Vimeo
Step 1: Open Vimeo from this app.
Step 2: Click on the menu button icon then click on the share button icon on the Vimeo video & Click on the 'Copy' option.
Step 3: Open this app and paste a link
Step 4: Click on the Download button